The kitchen is one of the most important rooms in house.  Aside from food preparation for the family meals, it invariably becomes the congregation center whenever entertaining guests or having a party.  It has over time become the main focal point of the house and is often a critical factor when someone is deciding to purchase a home.  Modern cabinets with lots of utilitarin features, built-ins, updated appliances and counters offer an attractive appearance and create a magnificient first impression for all visitors.  This is an area where spending money usually provides for a significant return on the investment you have made in your house.
Kitchen Remodeling
Remodeling a kitchen starts with a complete gutting of the interior space to allow for a brand new kitchen.  It may also involve removing or repositioning walls to make the space larger or more open to the rest of the house.  Gutting a kitchen to the wall framing allows for numerous features to be considered in a kitchen remodel.  New or additional electrical outlets can be properly positioned on the counters to make for more efficient use of appliances, wiring for under cabinet lighting can be installed, plumbing for that over the cooktop pot filler faucet to be installed, switches for the garbage disposal can be wall mounted if necessary.  Repositioning the walls or opening up the space can create the possibility to accomodate a new island, a new island with an eat in overhang, or a new peninsula creating more counter space.  Complete kitchen remodels also enable access to ceiling lighting to install new or additional fixtures, recessed lighting or decorative track lighting.  New cabinets enable the inclusion of numerous features like baking stations, waste basket and recycle centers, mixer cabinets etc.    While popular in the 70's and 80's, cabinets are now featured going all the way to the ceiling to provide a more finished look and provide addtional storage space.
KItchen Makeovers


Kitchen makeovers are a less involved version of a complete kitchen remodel.  In a makeover, the existing cabinets are usually saved and used as is or possibly repositioned to create a new configuration.  Countertops, sinks and faucets are often replaced, maybe a wall is moved or opened up to transform a small space into a more open concept.  New floors might also be installed and well as additional lighting features.
Featured Project 1


This project was a complete kitchen remodel.  The existing cabinets were removed, walls repositioned to create a larger space, the  exterior window was removed and a larger window installed, new cabinets were installed with a large center island.  All new appliances were installed including under cabinet lighting and a pot filler faucet. Granite countertops were installed along with new deep single bowl stainless steel sink and faucet.  The vinyl floor was removed and the
solid oak wood floor was continued from the eating area through the kitchen.  Numerous convenience features were added in the cabinets selected by the homeowner including an over the cooktop venting system.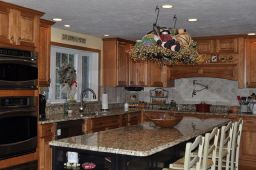 Featured Project 2
This kitchen was a partial remodel project.  The original kitchen was removed and the wall between the kitchen and the dining area was removed.  It was a non-structural wall so removing it did not require additional support.  New cabinets were installed in the expanded kitchen area with an eat at island added in the center.  Lighting was installed over the cabinets and the island.  A new tile floor was installed in the combined space along with new kitchen appliances including an over the stove microwave.